Lord, O my Savior and God.  Thankfulness fills my soul as I reach for you now.  As my soul seeks and humbly submits to its right place.  Clinging to your presence today I humbly ask, with passionate fervor, O Lord let me dwell in peace today.  When circumstances force the unexpected upon me- help me to handle it with grace.  May anger be far from me.  Holy Spirit, help me.  Convict me and move me toward calm and patience and away from anger and frustration.  Help me to let go of my desire to control, and to trust you with whatever comes my way.
My heart trembles when I think of my children always watching.  Even as I disciplined them yesterday, I was profoundly reminded that you discipline those you love, just as we seek to discipline our children.  I felt grieved in my spirit that my children might think that you discipline like I do.  Lord, you are so perfect in your patience and faithfulness to me.  How many times have I given you reason to throw up your hands in frustration or despair for me ever getting it right- and yet you always- always– graciously forgive me and tenderly lead me in the path of righteousness.
Please God cultivate in me love and patience like yours.  That loves with such passion and grace that anger is far from my lips.  Lord, let me not discipline my children in arrogance and superiority- but always with a humble spirit that recognizes that my children are also teaching me.  Let me be slow to speak; help me to listen and ask thoughtful questions.  To always be willing to stop and pay attention.
I know with a deep and penetrating certainty, like a shot through my soul, that my deepest regrets years from now will be my failure to seek You daily and petition your help as I guide these precious children you have entrusted into my care.  O Lord, I want them to love you and serve you all of their days.  Help me to model integrity and righteousness- for your glory- that they may serve You in joy and obedience all of their days.
Lord, thank you for always being with me.  For loving me even after days when I feel like I have failed.  Thank you for enfolding me in your arms and entreating me to leave yesterday behind and approach today in the confidence that you will never leave me nor forsake me and will guide me and place my feet on the right path.  My heart feels awash with love and gratefulness.  I know I can place my trust in You.
In the power of your Holy Spirit Lord, I submit this day to you.  By the blood of Jesus, Amen.
Linked up with the following:
Women in the Word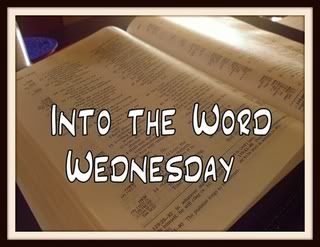 Thriving Thursdays @ Serving Joyfully