This is the final post of a three post series on Deny Self, Take Up Your Cross. To see the earlier posts click on the titles.
I want to know God.  I am a better person for knowing Him.  In spending time with Jesus and emulating His life, I am finding peace that I never thought I would ever experience in this life.
Yes, I like the person that I am when He is with me.
He empowers and leads me in a path where my desires produce fruit of the spirit; His Word helps me to avoid sin and say no to temptation.  The more connected I am to Him, the more quickly I can distinguish the Truth from lies.
God used Tozer's book The Pursuit of Man, to bring deep conviction into my life.  While reading chapter 9, Why the World Cannot Receive- I felt over and over this deep sense of pain and remorse.
My priorities are more in line with the world than with God.  I see how worldly loves and desires have filtered in and I have accepted and even encouraged their presence in my life.  I must allow God to root them out.
In obedience, I must immediately move as the Holy Spirit leads and not hesitate to rid myself of anything that distracts me from submitting my life completely to the will of the Father.
Let me share some of Tozer's words with you:
The twilight in which many (or should we say most?) believers walk today is not caused by any vagueness on the part of the Bible. Nothing could be clearer than the pronouncements of the Scriptures on the Christian's relation to the world. The confusion which gathers around this matter results from the unwillingness of professing Christians to take the Word of the Lord seriously…The difficulty we modern Christians face is not misunderstanding the Bible, but persuading our untamed hearts to accept its plain instructions. Our problem is to get the consent of our world-loving minds to make Jesus is Lord in fact as well as in word…Our problem is not one of understanding, I repeat, but of faith and obedience. The question is not a theological one, What does this teach? It is a moral one, Am I willing to accept this and abide by its consequences?
I wish I could quote the whole chapter to you. Please consider picking up the book and reading it.  As I sit here, I am overwhelmed by how largely I have bought into- all of it.
It is time to step out in courage with God.  To boldly speak His Truth to a world that so desperately needs to hear it.
Modeling my life after Christ alone is a great place to start.
Be holy as I am holy (1 Pet. 1:16).  That is, separated from this world- set apart for God, consecrated and made over to him.  To be devoted, living a life of service to Him.  To imitate, conform to, and become like God.**
Submitting to God and resisting the devil so that he flees (James 4:7).
Asking God first- what does He want me to do?  If I am not sure, learning to wait- to continue to seek Him and wait patiently.
To be intentional in what I choose to spend my time doing.  My time=God's time.  Let my actions prove that I believe it.
Be willing to go where He leads even if it is a little scary and beyond my comfort zone.
Will I hold on to what I want and refuse to let go of my habits and pleasures or will I believe verses like Psalm 16:11- "You show me the path of life, in your presence there is fullness of joy, in your right hand are pleasures forevermore?"
Will I hold onto my comfortable Christianity that doesn't require me to give up too much, or will I question everything and test everything against God's Word and boldly live in obedience, even if it hurts?
The weight of conviction is so heavy upon me as I write this- and what hurts most is that- I know this God who is patiently calling me deeper.  He is a God of love and mercy and joy and fullness of life!
Why would I hesitate to go where He leads?
No one has loved me like He has- nor will they ever.  He IS love.
So now I humbly pray with my whole heart- oh Lord help me daily submit in obedience to you.  Give me the courage to question every societal convention, every "assumed" thing- and test it against your Word.
May I be watchful for the enemy's schemes and faithful in Your Word and in prayer.
I want to bear fruit for your Kingdom Lord, I don't want to just do the "right thing" because that's what I "should do."  I want to live transformed, to be a new creation- the old has gone the new has come.
I don't know where this road leads, but I know you will be present with me- and that is enough.  Right now, today- I have all I need.
Lord, may our hearts never rest until we submit in humble obedience to you.
Oh Lord, I want you to have all of me.  Days where I indulge the flesh, where I seek to gratify self or live by my own desires only leave me with regrets.  Moments full of empty promises that never satisfy.  Those days when I say yes to You, when I surrender my will to Yours- they are so sweet!  So full of gratitude and joy, even in the midst of struggle.  For when those times come I do not look to my own resources to "solve" or "fix it," but my eyes seek Your face and my head bows in humble reverence.  I know the peace of resting in You.  I want your peace always.  I want your Presence always.  I want to surrender my days to Your will.  Teach me daily how, Lord.  Show me the path You have for my life.  As I loosen my grip on my own dreams and hopes for the future- give me Your vision for me, for my life.  Set me on fire with the desires of this new dream and purpose.  Take my life and let it be consecrated Lord to thee.  Take my moments and my days, let them flow in ceaseless praise.*  Oh yes, my precious Savior and God, let it be so. In Jesus Name, Amen.
*taken from the hymn Take my Life written by: Frances Ridley Havergal
**Definition of holiness taken from J.I. Packer's book- Rediscovering Holiness
Linked up with the following: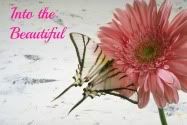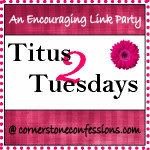 Women in the Word @ Good Morning Girls