Yesterday started out so great.  I had quiet time with the Lord in the morning and afterward, immediately set to work getting ready for our yard sale.  I was feeling optimistic and upbeat.
I enjoyed visiting with people as they came to our house and looked through clothes, it had brought back so many memories looking at all the outfits our children used to wear.
I was feeling nostalgic too- so thankful to God for my precious children and all the memories I already had to treasure.
Then, about ten o' clock, this little sense of disappointment started to creep in.
Where we all the people?
Why weren't we getting more traffic?
(My joy being stolen…)
I looked at the piles of clothes and all my hard work, and suddenly all I started seeing was "expectations." All that hard work for nothing, what am I going to do with all of this when the sale is over, I wish we had made more money….
All these negative thoughts started rolling around in my head.  I tried to keep them at bay for a while, but by noon I was headed toward a sour mood.
The sale ended at 1pm, and we had to be at our church at 3pm for an outreach event for fall.  I was tired from being on my feet and staying up late the night before.  The last thing I wanted to do was pack up all these clothes, rush to get ready, and then head out again.
I was grumpy and grumbling.
I was irritable and tense.
My husband sensed it and gently tried to rouse me out of it, but I stubbornly refused to be shaken.
My daughter came out to see me.  She walked over to me and said, "Mom, do you still have a thankful heart and a happy heart?"
She could see my bad mood.  And she used the very words that I use with them to speak truth to her Mom.
Where was my joy?
Where was my thankful heart, that sought to find God in all things and shunned selfishness?
I was all about my flesh in that moment, and I had failed to address the seeds of irritability and discontentment when they sprung up, and now I was facing an infestation.
Do you struggle with letting go of anger, frustration, and irritability when they have really taken hold of you?
I do.   I knew I needed to let it go.
I told my daughter something about how she was right, but (I tell my children no "but" and here I am using it) Momma was just upset because I couldn't find something- which was true- but there was no excuse for my attitude.
And here I was, teaching my daughter that I had the right to be in a bad mood and rude to everyone if things didn't go my way.
Conviction hit me hard.
When I was in the shower I prayed and asked God to help me change my attitude.  And of course, He did.
Why did I wait so long to call on Him?
An undisciplined mind.
I must call on God immediately when I see fleshly desires popping up, threatening to undermine the truth in my mind.
The mind is our greatest battlefield.
We lose so much time by allowing the enemy to gain control of what we focus our energy on. I was missing out on "real life" going on all around me.  The enemy loves to squander our precious time  in complaining, bitterness, and selfishness.
We end up losing sight of all we have to be thankful for, right in the moment- even in the midst of disappointed expectations and hard work.
We have a choice, and I chose badly.
My prayer is that I will submit more readily to the Lord and not allow those seeds of discontentment to evolve into a spirit of selfishness and discontentment that brings down everyone around me.
When it was in my mind, only I was being hurt, but as it transferred to my spirit, I began to negatively affect my whole family.
James 4:7-11
7 Submit yourselves, then, to God. Resist the devil, and he will flee from you. 8 Come near to God and he will come near to you. Wash your hands, you sinners, and purify your hearts, you double-minded. 9 Grieve, mourn and wail. Change your laughter to mourning and your joy to gloom. 10 Humble yourselves before the Lord, and he will lift you up.
The passage from James above has become a source of constant meditation for me.  I must be on guard against the enemies attacks.  Expect them to come and be watchful.  I must be diligent to submit myself to God.
When self and the flesh start to stir, I must squelch them with the Word of God.  That is my weapon.  And when I sin, I must confess and humble myself before the Lord.
I don't want to hesitate, but to immediately recognize that I have been letting my flesh lead- not the spirit of God- and run back into my Savior's arms.  Seek His presence and pray.
Oh Lord, I need you every minute, at all times.  Continue to humble me until I willingly live moment by moment in the strength of Your presence- not based on anything that I bring to this relationship except my trust in You.  I want to live by faith that daily acknowledges that all good comes only from your hand.  Thank you God for continually teaching me, and I pray that in humility I will immediately accept your discipline and keep a tender heart toward your law.  All glory and honor and praise is yours alone.  Only you are worthy.  In Jesus Name, Amen.
Linked up with the following: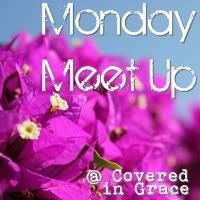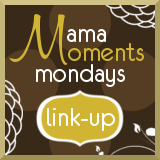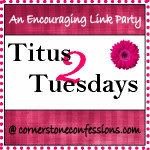 Women in the Word @ Good Morning Girls