Ever since I started blogging, this has become a lesson that the Lord consistently and graciously brings to mind.
Trust me when you can't see.
Be obedient even when you don't get the results you may want/expect.
Be willing to complete things even when you're expectations are disappointed.
Follow through– be dependable and full of integrity.
Sometimes no one comments on my posts.
My humanity (flesh) could take that in negative directions.  Maybe no one cares about what I write, maybe I need to change what I write- draw a larger audience, be more like so and so…
But God keeps gently reminding me, obey me.  Write what I lay on your heart.  Trust me and let it go.
I have to trust that He will bring someone here to hear a word that they may need.  However He wants to use me, I choose- daily- to be willing.
Deuteronomy 13:3-4
The Lord your God is testing you to find out whether you love him with all your heart and with all your soul. 4 It is the Lord your God you must follow, and him you must revere. Keep his commands and obey him; serve him and hold fast to him.
Wanting recognition by other people is a wrong motive to continue in any discipline.  In fact, many times we receive the most opposition from others when we are exactly where God needs us to be.
It is hard to trust.
Easy to feel self-doubt.
But in all things we must press on, trusting God to use us and trusting that the direction He is leading us is right even if the general consensus of those around us says the opposite.
Psalm 19:7-9
The law of the Lord is perfect,
    refreshing the soul.
The statutes of the Lord are trustworthy,
    making wise the simple.
8 The precepts of the Lord are right,
    giving joy to the heart.
The commands of the Lord are radiant,
    giving light to the eyes.
9 The fear of the Lord is pure,
    enduring forever.
The decrees of the Lord are firm,
    and all of them are righteous.
Knowing God's Word can make us wise, even beyond our years.  It can help us hold fast when doubts and fears assail us.  God gives light to our eyes as well.  He will lead us along the path He has called us to walk.  Step by step.
We must trust.
Even as we remember- your Word is a lamp unto my feet, a light unto my path.  We can see the daily steps we must take- and then trust God for the rest.
There are some things that God keeps from us.
Sometimes we wait.
Sometimes we face disappointment.
Sometimes we hurt.
But we are never alone. 
Our God walks with us; in His love and compassion He never leaves us alone.  We can trust Him with the future- 5 min., 5 days, 5 years.
Isn't it good to be submitted to the one who holds the world in His hands?
Trust Him today.
Even when you can't see.
God of creation, God of the universe.  God who made all that is and who existed before all was made- sometimes we need to focus on how big and powerful You are. No problem is too big for you.  No obstacle too large.  You surpass it all.  You hold us in unchanging love, your mercy never ceases- it has no end.  We can place our faith and trust in You.  You are worthy of the honor due Your name.  Oh Lord, when the path gets bumpy and the sky goes gray- when we get scared and can't find our way- may we cling to the Rock- our firm foundation- and never forget that you are worthy of the faith you call us to place in You.  That your call upon us is one of compassion- for you know very well that we were made to be in the place that you lovingly call us home to rest.  We belong at your feet, in your presence, always.  Thank you Lord for being fully with each of us right where we are.  For lovingly leading and guiding us, and knowing what we need even before we ask.  Blessed be Your name.  In Jesus Name, Amen.
Linked up with the following: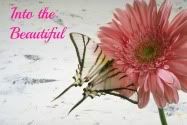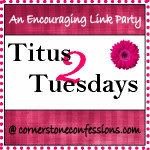 Encourage My Heart @ Lessons From Ivy