As our eyes open…
Our joy increases.

We find you in each moment.
You fill us when we look and seek. 
Gratitude overflows.
We pour out our thanks to you: (highlights of August with our eyes open)
214- chimes singing in the breeze
215-silence
217-words of comfort from a friend
218- a gentle touch of love
221- my little boy's curious hands
224- a husband who says thank you- he sees me and loves me
227- chalk covered patio
232-sounds of children waking up
233- handstands
240-just as I am
244- blowing kisses
249-mercies new every morning
262- secret joy of knowing a letter is on its way to someone I love
263- making dresses with blankets
270- You are always near
273- when Mama takes me to church
290- the way God gave us the rain
291- that God made you and me
Will you join in and read One Thousand Gifts by Ann Voskamp and keep your own list of 1000 gifts?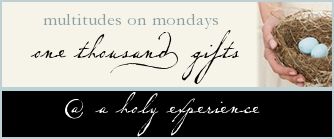 Linked up with the following: